(B2) German President Frank-Walter Steinmeier delivered a responsible and empathetic Easter speech from Bellevue Palace, the presidential residence, on Saturday (11 April). Three excerpts. To read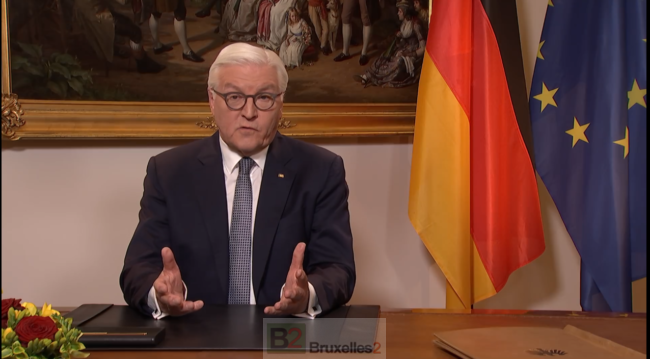 Vulnerable society
"The pandemic shows us. Yes, we are vulnerable. Perhaps we have thought for too long that we are invulnerable, that we can go no faster, no higher, no further. But that was a mistake. The crisis does not only show us [that]. It also shows us how strong we are! What we can build on!"
This is not a war, but a test of humanity.
"No, this pandemic is not a war. Nations are not against nations, soldiers are not against soldiers. This is a test of our humanity. It is about the worst and the best of people. Let us show the best of ourselves! And let us show it in Europe too!"
Solidarity is not a possibility, it's an obligation.
"Germany can only emerge from the crisis strong and healthy if its neighbours become equally strong and healthy. Thirty years after German unity, 75 years after the end of the war, we Germans are not only called to solidarity in Europe. We are obliged to do so!"
Comment: the right tone
What more can I say. Not much. The former head of German diplomacy, close to Gerhard Schröder, found the right tone. Neither tearful nor warlike, he recognizes the gravity of the situation, the mistakes, and calls on everyone to be more dynamic, more enterprising. By making solidarity a historical obligation in the same way as it was in 1945 or 1989, he closes the door to any temptation to withdraw into oneself. It is a great speech, a speech that we would like certain European and French leaders to make.
(Nicolas Gros-Verheyde)
---
Who's Steinmeier?
Frank-Walter Steinmeier, a native of North Rhine-Westphalia who is a Social Democrat to the core, embodies the centrist tendency of the German SPD. From 1993 he was chief of staff to Gerhard Schröder, then Minister-President of Lower Saxony, and accompanied him on his journey to power. In 1998 he became the government delegate (= political head) of the intelligence services and then its director of the chancellery for six years (from 1999 to 2005). He was one of the architects of the reform of the health systems put in place at the beginning of 2000 (a rather efficient system).
He then served as Foreign Minister to Angela Merkel twice from 2005 to 2009 and from late 2013 to early 2017. In 2009, he is mentioned, for a moment, as a possible High Representative of the Union (read: Le groupe socialiste et démocrate veut un Haut représentant, socialiste). He did not hesitate then to address US President B. Obama to demand a rethink of NATO (read: Steinmeier à Obama (usa): « une nouvelle orientation » pour l'Otan). In March 2017, he was elected President of the Federal Republic of Germany, a function that is above all symbolic, but which in Germany has a high moral authority because it is above the parties.
---
Download the speech (in German)
* unofficial translation