Purchases of RPAS by Frontex : a bit strange
(B2) The launch by the European Border and Cost Guard Agency of a call for tenders for maritime surveillance by a Medium Altitude Long Endurance (MALE) drone raises questions. A French MEP wonders about it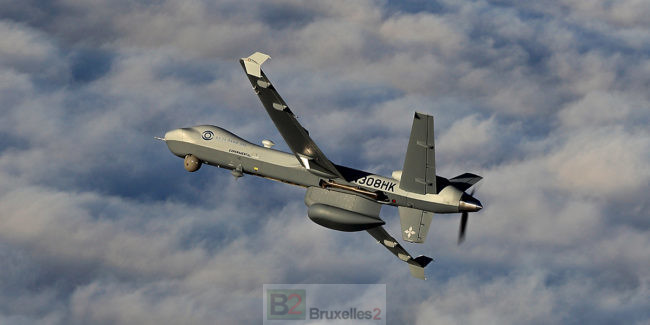 A MQ-9 Guardian Reaper drone (maritime version) during a demonstration in Greece in December (credit : General Atomics Aeronautical Systems)
A very 'oriented' call for tenders
Launched on the 18th October 2019, for a market estimated at 50 million euros, this call for tenders presents "selection criteria that prevent European companies from replying, although they would have had all the assets to effectively monitor our maritime borders, if they had not been excluded de facto by Frontex's technical criteria", states, alarmed, the French MEP Christophe Grudler (MODEM/Renew) in a statement published Thursday (23 January) afternoon.
A blow to European industry…
An "unacceptable" approach, protests the MEP. "By choosing to procure non-European technology drones to monitor our maritime borders, the Agency would pose a risk to our autonomy and security, while weakening our European industry."  The call for tenders asks for example 20 hours of autonomous surveillance… Which only one machine can offer: the American Reaper (NB: the maritime version of the MQ-9 Reaper called 'Guardian'). "European companies can do this by networking two UAVs at the same cost", considers the MEP. However, the "specifications ask that only one drone be used to achieve this…".
… by de facto favouring an American choice
For this Belfort native (1), fiery defender of strategic autonomy, the choice of American technology is clear. ardent défenseur de l'autonomie stratégique, le choix de la technologie américaine est clair. The proof of this is in article II.2.14 of the contract notice: which admits "exceptionally" offers from economic operators of third countries, not members of the European Union. "I don't understand how this Frontex tender could be validated. Especially since it is a service contract and not the choice of a specific material" protests the MEP, vice-coordinator Renew for the ITRE (Industry) committee, and member of the SEDE (Security and Defence) sub-committee of the European Parliament.
A breach in the European strategic autonomy
"I do not understand the aim of this call for tenders by Frontex, which runs counter to all the ambitions of the European Union: we are seeking European strategic autonomy, security of our borders by autonomously strengthening their surveillance, a new industrial strategy to support our companies, particularly in the field of security, aeronautics, space and defence… This decision is the opposite of all that" denounces the MEP.
Commentary : a real need, but a normal legal, political and transparency questioning
The choice of a MALE drone allowing to have only one long flight can be understood in an operational and practical way. There are two solutions : 1. the MQ-9 drone of the American General Atomics, which is today one of the most widespread, reliable and interesting device ; 2. the Heron, manufactured by the Israeli IAI. By not having believed and invested in this drones market (to favour 'piloted' aircraft), European manufacturers (and the Member States) have fallen behind by a number of valuable years and have let their American (and Israeli) competitors take such a big step ahead that they are now essential in certain market segments. A strategic error.
The fact remains that – assuming what C. Grudler claims is well founded – we are faced with a real legal-political problem. Is subtly directing a call for tenders, by using technical criteria, towards a single possible respondent or company, fair? Is it in accordance with the spirit (if not to the letter) of the European public procurement rules? It will be up to European courts, or even the Anti-Fraud Office (OLAF) if necessary, to judge this. Since these are a priori seized, or could be quickly seized, European manufacturers (such as Leonardo, ex Finmeccanica) seeming to decide to assert their rights.
There is also, and above all, a real political questioning. The whole ambition of the European Commission, by setting up the European Defence Fund (FEDef/EDF) was certainly to devote European money directly to research, leaving the Member States free to pursue their policy of equipment acquisition. However, in the absence of a common acquisition budget, it has also been clearly indicated that public rentals or purchases from EU institutions or agencies constituted an  interesting, non-negligible lever for European action (read: La fenêtre acquisitions du Fonds européen de défense : la boite à outils financiers de la Commission).
(Nicolas Gros-Verheyde)
Just as Jean-Pierre Chevènement, ex Defence minister (from the PS then MDC), who was his local adversary.