(B2) This is now confirmed. Denmark will contribute to a European-led maritime surveillance mission in the Strait of Hormuz, alongside the Dutch (1) and the French Navy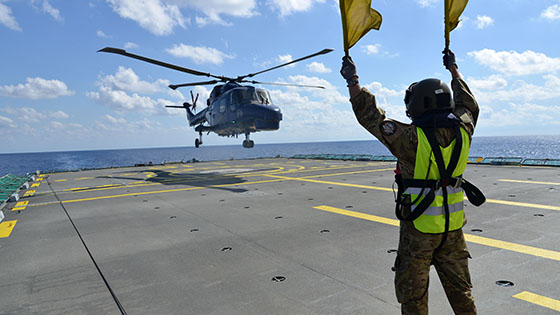 Staff officers in january, a frigate in autum

Copenhagen will first provide, from the beginning of the operation (early 2020), one or two staff officers to the operation headquarters in the French headquarters in Abu Dhabi for a minimum period of twelve months. It will then make available, from autumn 2020, a frigate with 150 personnel and a helicopter for a period of four months. The decision was announced by the government on Thursday (December 12) after consulting the Foreign Policy Committee on military contributions. A draft law will be presented to Parliament before the commitment is made.
Little country, big maritime industry

"It is important that Denmark as a significant sea-faring nation with a capable navy takes responsibility, and stands up for the principles we believe in" said Defence Minister Trine Bramsen. "As the fifth largest seafaring nation in the world, Denmark has a special interest in – and responsibility to – ensure maritime security and freedom of navigation – also in the Strait of Hormuz", added Jeppe Kofod, his Foreign Affairs counterpart. "Our contribution will complement other efforts in the region, including the US-led maritime security effort IMSC. The European-led mission is also expected to be supplemented by diplomatic efforts aimed at enhancing regional dialogue on maritime security".
A rather well-known area

For the Danish navy, Gulf waters are not unknowned. A Danish warship was regularly in Gulf of Aden and off the coast of Somalia against maritime piracy, including the Absalon frigate and the Esbern Snare frigate. It was even one of the first navies to be present in the area, along with the French and Spanish (read : The Danes arrest 10 suspected pirates off the coast of Somalia). Its ships continue to be present, particularly in the context of CTF missions on American initiative.
(Nicolas Gros-Verheyde)
For details of the'Ormuz' operation, read : La future opération maritime européenne dans le détroit d'Ormuz. Cadre, format, tempo, base juridique… Détails