A French admiral appointed as Director General of the European Union Military Staff
(B2 – exclusive) His name is well-known among B2's readers : the admiral Hervé Bléjean will take over the European Union Military Staff (EUMS) next year, on May 28th 2020. Thus succeeding the Finnish general Esa Pulkkinen, himself appointed in May 2016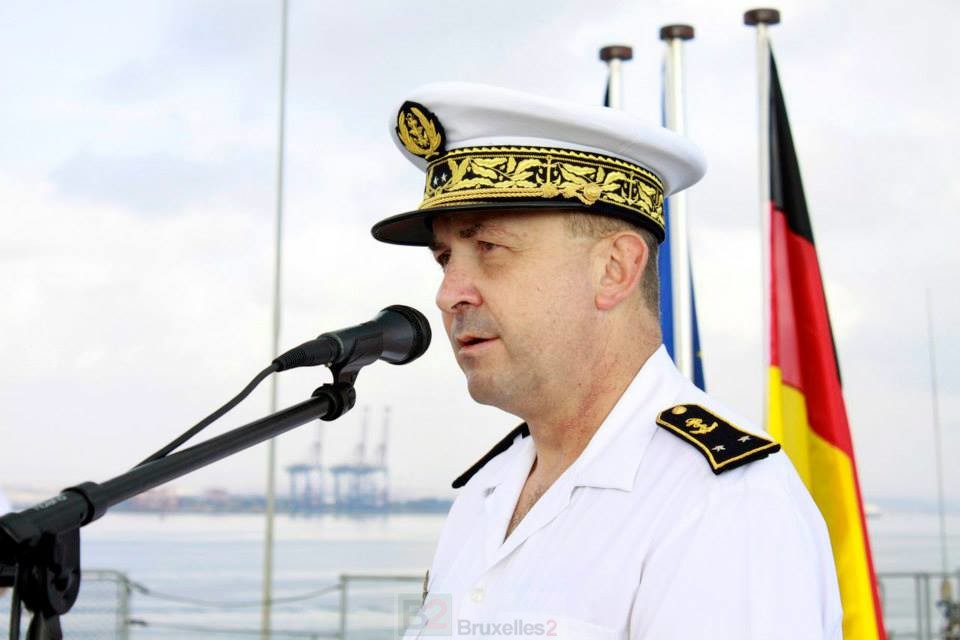 The admiral was elected during the May 21st Military Committee reunion bringing together the European Union's Chiefs of Staff of the Armies. This appointment marks the return of France to a leading position of the CSDP. The French have not held leading positions in the management of the CSDP since the departure of General de Rousiers from the head of the EU Military Committee in 2015. The EU Military Staff itself has no been commanded by a Frenchman for twelve years, the last one being the General Jean-Paul Perruche who had exercised this function from 2004 to 2007 (1). It can also be noted that this is the first time a sailor takes the lead of the EUMS, attesting of the maritime component's new importance in the missions and operations of the CSDP.
Last commander of the Jeanne (d'Arc) helicopter cruiser, promoted to the rank of rear-admiral in September 2013, Hervé Bléjean is Deputy Commander of the French Maritime Forces (FRMARFOR). In parallel, he takes the command of the multinational operational force 150 (CTF 150) engaged in anti-terrorist operations along the coasts of Somalia. Before taking the leadership of the European anti-piracy naval force (EUNAVFOR ATALANTA), deployed near Somalia aboard of the RCD Siroco, from December 2013 to April 2014.
When this command ends, he is appointed Deputy Chief of the Navy in charge of international relations for the Chief of Staff of the Navy, before becoming from June 2015 to March 2016, alongside the admiral Credendino, the 'number 2' of the Operation Sophia (EUNAVFOR Med), the EU's operation against trafficking in the Mediterranean. He is selected to act as Deputy Chief of Staff for the Allied Command Operations in Naples in July 2016, then takes up the duties of NATO Deputy Commander of the Maritime Command (MARCOM) from June 2017. He is promoted to the rank of vice-admiral in September 2017. He had been auditor of the 62nd session of the IHEDN (2009-2010 promotion).
(Nicolas Gros-Verheyde)
Download his NATO biography

(1) The only soldier in a leadership position was General Daniel Grammatico, Director of Operations for the Military Staff, who has just taken up the position of Head of the Regional Coordination Cell for the Sahel (RACC). One can also find a French general, Yvan Gouriou, as Chief of Staff for the President of the Military Committee.