(B2) These third 'Entretiens' of European defense bear witness to a Europe at a crossroads. Ready for anything, provided you want to and be able to move from rhetoric to practice …

Covid-19 requires, the third Defense Interviews were held this year at a distance, focused on half a day, Wednesday (4.11), and provided expertly by the various facilitators (Stéphane Rodriguez, Federico Santopinto, Frédéric Mauro) , live from the 'Walster Hallstein' room of the Berlaymont, which is used for meetings of the European Commission. A day divided into four highlights.

 The ambitions of Commissioner Breton
Thierry Breton, the European Commissioner for the Internal Market (and in charge of Space and Defense), opened the discussions by presenting his plan to endow Europe with "hard power". A twelve-step plan, built around Defense and investments, where we also talk about cyber and space.
Favorable context, if you dare
The first panel of geopolitics experts, gathered around a question – "What geopolitics for the European Union" – is adamant: Europe must raise its voice. This is the only way for the European Union and its Member States to make their voices heard in the global turmoil.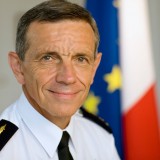 Immediate challenges to be met
The 'defense' experts of the second panel are in the affirmative: while the Union represents the ultimate hope for European defense, progress is far too timid. It lacks, in particular, good defense planning, as detailed by Jean-Paul Palomeros (former Chief of Staff of the French Air Force and head of the ACT, the command for the transformation of the NATO).
Defense Europe is still looking for itself. The conclusion is obvious. It is signed by the president of the defense sub-committee of the European Parliament, and former Minister of European Affairs, Nathalie Loiseau (LREM / Renew).
Jolyon Howorth's utopian flight
How not to forget, in the role of the great witness, the Briton Jolyon Howorth, of the Harvard Kennedy School, who stirred the pot as we hoped. If he believes in strategic autonomy, this first forces the Europeans to recognize the current stalemate of the CSDP as the functioning of NATO. All that remains is to found a 'New Atlantic Alliance!
(ES and the team of B2)
(photo credits : Thierry Breton / Commission européenne ; Jolyon Howorth / Sorbonne / IREDIES ; Jean-Paul Palomeros /  Def12 )
The texts were published either on the blog or on our B2 Pro edition reserved for members / subscribers. But in order to make them accessible, they are in an 'open' format for everyone.